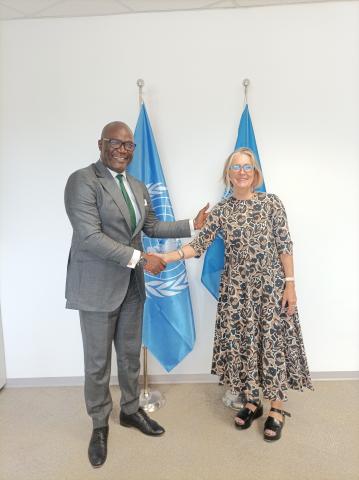 As part of our efforts to strengthen our strategic partnership with the World Food Programme, UN-ASG and DG of ARC Group Ibrahima Cheikh Diong and team met today in Rome with WFP's Deputy ED in charge of Advocacy and Partnership, Ute Klamert and her team. 

The constructive exchanges centred around, amongst other things, increasing ARC's risk insurance coverage across Its current member states and beyond, showcasing ARC's impact stories through the perspectives of the beneficiary countries, impact-oriented resource mobilisation, furthering the narrative and debate on loss and damage beyond compensation leveraging on ARC's mandate and experiences, greater collaboration between AU and WFP, joint advocacy efforts at COP27. 

We are grateful for the continued support of WFP Management through their administrative support to ARC and our joint efforts to increase our insurance coverage across Africa.