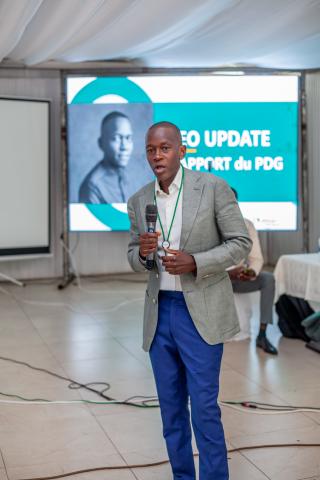 ​​​​​​​
Ecosystem of ARC Limited shares opportunities and challenges of working together to fight impacts of climate change

ARC an instrument that can protect Africa's most vulnerable against the worst impacts of extreme weather


 
MALAWI, 2 AUGUST 2022 – Representatives from African governments, humanitarian partners and donors have met in Malawi to discuss how parametric insurance delivered through African Risk Capacity Limited has the potential to transform how the continent deals with climate-change induced events, such as droughts and cyclones.
 This is the second such meeting bringing together stakeholders in the African Risk Capacity (ARC) ecosystem, aimed at bringing to the table opportunities and challenges experienced in the past year by stakeholders to ensure that the insurance mechanism offered by ARC, an organ of the African Union, swiftly assists Africa's most vulnerable – this, in a year when ARC Limited has made a record pay-out of almost $60 million in claims.
 Addressing delegates, ARC Limited CEO Lesley Ndlovu commented on the value of ARC on the African continent. "In the history of ARC, we have paid about US$125 million in claims and half of that was in last year's Pool 8. We are extremely happy when we pay claims because these go towards meeting the needs of Africa's most vulnerable people. These pay-outs also demonstrate the value of the insurance mechanism."
 Says Ndlovu: "Further, the fact that about half of the claims paid were paid by the insurance market means that ARC is able to take weather-related risks on the African continent and seed them into global markets such that when there's a disaster on the African continent, part of the payment for the cost of that disaster also comes from the global reinsurance markets, again demonstrating the value of having a mechanism like ARC."
 During the session, Malawi, Mali, Madagascar and Zambia shared their insights on how the ARC Limited insurance mechanism had supported their disaster risk management programmes in the past year, as well as lessons learnt, including the need for political buy-in and alternative pay-out mechanisms.
 Beyond the assistance to African governments, Ndlovu also highlighted ARC Limited's work in diversifying its products, including the development of flood and pandemic insurance – both of which were in pilot phase as stakeholders heard from presentations by representatives from Togo, Uganda and Senegal during the two-day event.
 Further, an essential part of how ARC Limited intends to expand coverage to the countries with which it works is micro and meso insurance products (non-sovereign business). Several pilots have also been developed to this end in countries such as Côte d'Ivoire, Zimbabwe, Madagascar and Burkina Faso, among others.
 ARC Limited's overarching goal, Ndlovu shared with delegates, was to increase the participation of African countries in its insurance programme and position ARC Limited as Africa's premier institution for disaster risk financing.
 "Currently, we have 13 countries that participate out of 55 on the African continent. We need more to participate, and are also working very hard to bring partners into the ecosystem so we are able to overcome the two main barriers we face in the growth of insurance – the affordability of premiums and increasing capacity building so there is greater understanding of the role of insurance in disaster risk management," says Ndlovu.
 Also attending the event were key donor and humanitarian partners, which shared highlights of their work with African Risk Capacity. Among these were USAID, the World Food Programme, the Start Network, the African Development Bank, KfW Development Bank, the Foreign, Commonwealth and Development Office, Swiss Agency for Development and Cooperation, and Global Affairs Canada
 Highlighting the importance partnerships, Ndlovu concluded the event saying: "We all know that Africa is a continent that is most exposed to climate-change-related risks and with ARC we have in our hands an instrument that can play a vital role in creating the solution to protect the most vulnerable African citizens against the worst impacts of extreme weather. It really is up to us to make this initiative a success," Ndlovu concluded.
Ends
For more information about ARC Group, or to arrange an interview, please contact Simon Diouf, Communications Consultant at African Risk Capacity on simonpierre.diouf@arc.int  or contact Claire Lathe at claire@bigambitions.co.za.
About ARC Limited
The African Risk Capacity Limited (ARC Ltd) is a financial affiliate of the African Risk Capacity (ARC), a specialised agency of the African Union (AU), an initiative designed to improve current responses to climate-related food security emergencies.
 ARC Ltd is a mutual insurance facility comprised of its members, which have included Kenya, Mauritania, Niger, Senegal, Mali, Malawi, Gambia, Burkina Faso, Chad, Zimbabwe, Togo, Madagascar, and Zambia.
 The membership also includes its capital contributors who have provided premium subsidies, including USAID, FCDO SWISS, KFW/BMZ, IFAD, AFDB, WFP and STARTNETWORK.